New Dungeons & Dragons Rules Expansion Starter Set "Dragons Of Stormwreck Isle"
February 18, 2022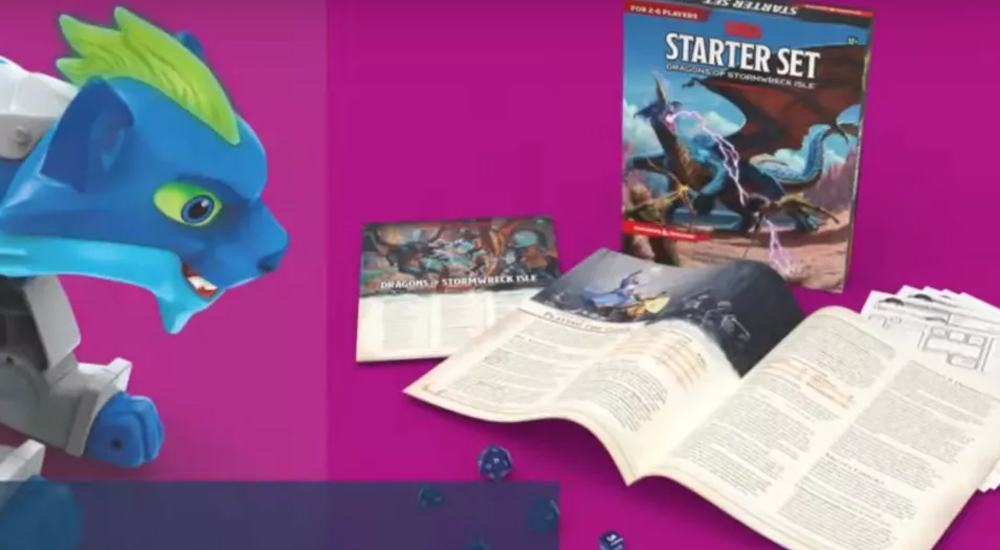 LINK: https://comicbook.com/gaming/news/dungeons-dragons-starter-set-dragons-stormwreck-isle/
Hasbro has just released this morning their new product line for 2022 which includes a new Dungeons & Dragons Rules Expansion for "Monsters Of The Multiverse" with a new Starter Set Game Module "Dungeons & Dragons: Dragons Of Stormwreck Isle".
Hopefully this will be a new playable monster set to go with the "Monsters Of The Multiverse Rules Expansion".
Hasbro Dungeons & Dragons has added new character development into their game which opens up new venues for the company, which also has asked share holders for a new Wizards Of The Coast Subsidiary Spinoff Company for new product releases.
LINK: https://www.wsj.com/articles/hasbro-activist-begins-proxy-fight-urges-dungeons-dragons-spinoff-11645056001
Dungeons & Dragons 5E has been the most successful version of Dungeons & Dragons which now includes a new expanded version by using the book "Monsters Of The Multiverse" currently only available in a three volume book gift set.
With a new Dungeons & Dragon version 6E on the way.
The new character development form Wizards Of The Coast includes new "storytelling plots" through out the book series and they have also recently announced a new Dungeons & Dragons television series, which opens the company up to more toy and game creations with potentially new action figures, comic books or cartoons which could be made based on the new Hasbro Dungeons & Dragons Characters.
New Dungeons & Dragons Starter Set Revealed by Hasbro
By Christian Hoffer – February 18, 2022 08:45 am EST
Hasbro announced a new Dungeons & Dragons Starter Set that will be released this year. Dungeons & Dragons: Dragons of Stormwreck Isle was one of several new products announced yesterday by Hasbro. No pertinent details were provided about the new Starter Kit, but it does show a blue dragon on the cover of the box. Unlike the first D&D Starter Set or the 2020 D&D Essentials Kit boxed set, Dungeons & Dragons: Dragons of Stormwreck Isle has a retail price of $49.99. This likely means that the new boxed set will contain some form of additional material, either through a more robust adventure or more accessories.
The D&D Starter Sets serve as introduction points for players who want to get into Dungeons & Dragons but don't want to commit to buying the game's three core rulebooks. A Starter Set typically contains a Basic Rules pamphlet featuring a streamlined set of 5E rules and an introductory adventure that guides players through several basic scenarios. Pre-generated character sheets and a set of dice are also typically included. Starter Sets can often be found in mass retail locations like Wal Mart, Target, and Amazon alongside traditional board games. In recent years, Wizards of the Coast has increased the number of boxed sets for sale, with the release of the aforementioned Essentials Kit as well as tie-in boxed sets featuring the Rick & Morty and Stranger Things franchise.